Beat Psoriasis has ceased offering the dermalight80. We no longer stock any new units.
We do continue to provide warranty support for customer who purchased their dermalight80 from us and have evidence of purchase.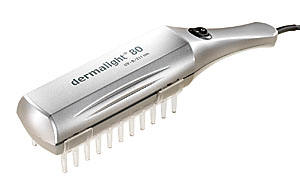 The dermalight80 (sometimes mistaken for the Handisol in the USA) is the original and held UV phototherapy device. The dermalight80 is a compact and versatile UV home phototherapy unit. It can treat all parts of the body, including the scalp, with the special comb attachment that is included as standard. The comb enables a penetrating and highly effective treatment of the scalp (please note some of our competitors charge extra for a comb attachment!) The Dermalight80 is easy to use for in-home phototherapy. To get an idea of the treatment program, you can view the instruction manual for the Dermalight80 here online. The standard Narrow Band UVB-311 Dernalight80 is best suited for psoriasis, vitiligo, eczema and similar conditions.
included 2 year warranty, DOUBLE the warranty offered by US suppliers and no doctor's prescription or letter required

discounted international express freight, other suppliers charge up to $135 extra for international delivery

Best pricing guaranteed, if you happen to find a better price, please bring it to our attention and we will happily better any total price
110v (USA, Canada, Japan etc) and 220-240v (UK, Europe, Australia & New Zealand etc) units are both readily available - we know which product voltage suits your country and location. The Dermalight80 includes a 2 year warranty and 30 days on globes.