Handisol home UV phototherapy treatment for psoriasis
Thank you for your time and considering to purchase you phototherapy devices from BEATPSORIASIS.COM. We are committed to providing the best possible price and delivery for clients where ever you are around the world.
BEATPSORIASIS.COM have withdrawn the Handisol home UV units from sale, please see the Dermaray UV home treatment wand
We continue to offer warranty support to customer who purchased their units from us.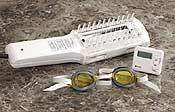 The Handisol UV phototherapy product marketed in the USA by some suppliers is a renamed Dermalight80 unit. The Handisol is exactly the same as the Dermalight80, where the Dermalight80 is the original branded product manufactured in Europe. BEATPSORIASIS supply Dermalight80 (or Handisol) worldwide express without the need for a prescription. BEATPSORIASIS can also supply international power transformers to suit either 110 or 230 voltages. We supply Dermalight80 / Dermalite / Handisol worldwide express without a prescription.